MAIN MENU
ANNUAL EVENTS
BRYAN'S PLACE
CONTACT BRYAN
925 E Main / P O Box 854
Eastland TX 76448

PHONE: (254) 629-2158
EMAIL: bryan@ebryans.com
FACEBOOK: link
Sticker Contest

See all the 2015 details on our Bryans Auto Supply Facebook - CLICK HERE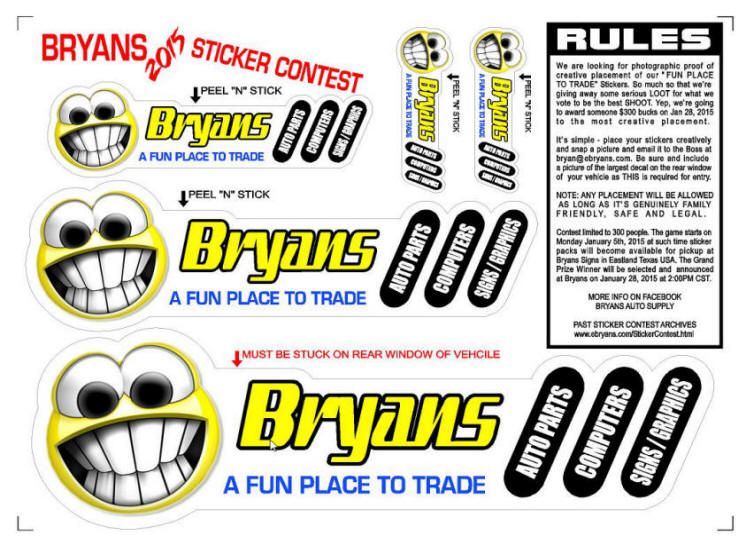 BRYANS STICKER CONTEST $500 Winner [CLICK HERE]


Grand Prize $500 Winner

[Shelia Gibbs Smiley Family]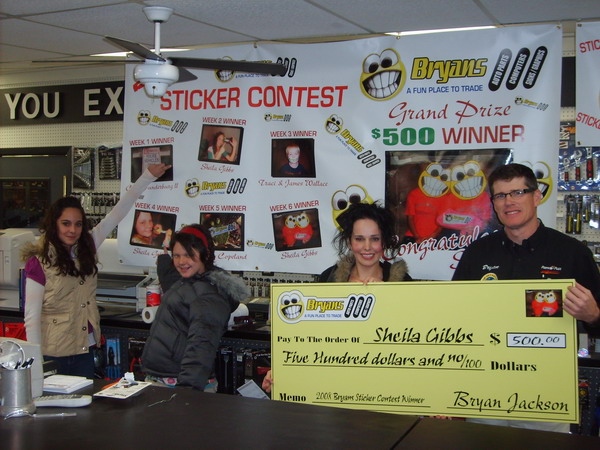 The Meaning of a Smile

It costs nothing, It creates much, it enriches those who receive, without impoverishing those who give. It can happen in a flash, but the memory of it sometimes lasts for ever.

It creates happenings in the home, hope and goodwill in business, and it is a counter sign of friends. It is a strength to the weary, daylight to the discouraged, sunshine to the sad, and natures best antidote to trouble.

It cannot be begged, bought, borrowed or stolen, it is something that is no earthly good to anyone, until it is given away.

If in t he course of the day, your friends may be too tired to give a smile, then why don't you give one of yours; because nobody needs a smile more than those who have none left to give.

Laughter is a part of who
God created us to be...

A cheerful look brings joy to the heart and good news health to the bones. Proverbs 15:30

A cheerful heart is good medicine but a crushed spirit dries up the bones. Proverbs 17:22

Finally, brethren, whatsoever things are true whatsoever things are honest, whatsoever things are just, whatsoever things are pure, whatsoever things are lively, whatsoever things are of good report; if there be any virtue, and of there be any praise, think on these things.
Philippians 4:14 Verse 8-9




2nd Place $100 Gift Certificate Winner

[Traci Wallace Child with Sticker over mouth]

Weekly Winners

[Week1] [Week2] [Week3] [Week4] [Week5] [Week6]


Runner Ups

[Week1] [Week2] [Week3] [Week4] [Week5 TIE] [Week5 TIE] [Week6]


Special Mentions

[Best Photoshop] [Best Animal Shot] [Best Rear Shot]
[Most Cruel Entry] [Most Illegal Entry] [Warmest Feeling Entry]
[Most Techno Minded Entry]
Honorable Mentions [#1] [#2] [#3]


Week 1 WINNER

Cecil Funderburgh II
Winners being selected by the gang at Bryans World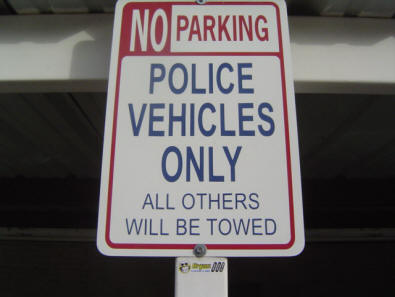 Week 1 Mentions
Week 2 WINNER

Sheila Gibbs
Winners being selected by the gang at Bryans World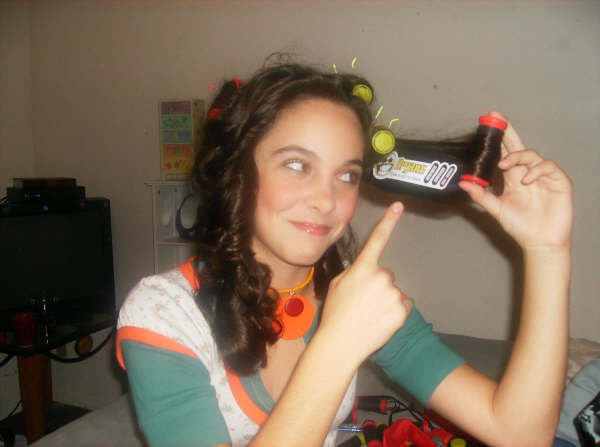 Week 2 Mentions

See below link
Click here to see a Fun Place to Trade using Google Earth
Week 3 WINNER

Traci Wallace
Winners being selected by the gang at Bryans World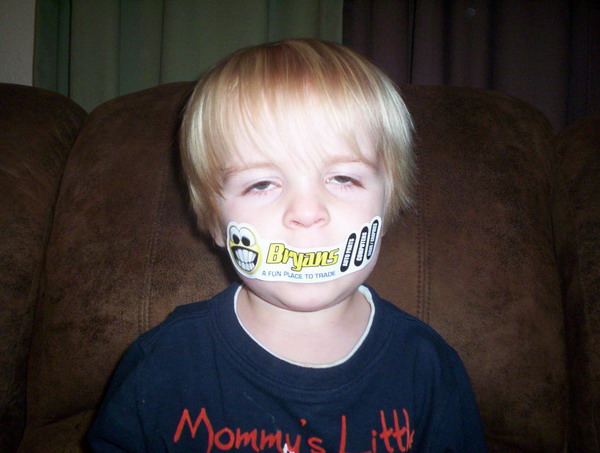 Week 3 Entries
Week 4 WINNER

Sheila Gibbs
Winners being selected by the gang at Bryans World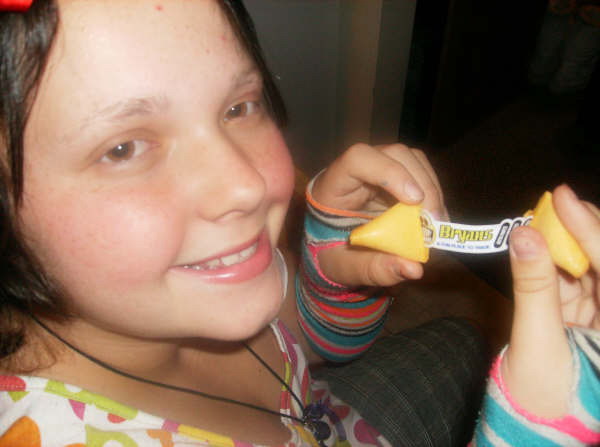 Week 4 Entries
Week 5 WINNER

Beverly Copeland
Winners being selected by the gang at Bryans World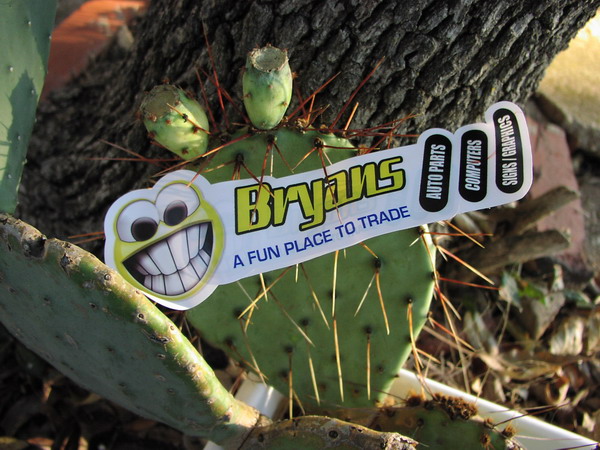 Week 5 Entries
Week 6 WINNER

Sheila Gibbs

Winners being selected by the gang at Bryans World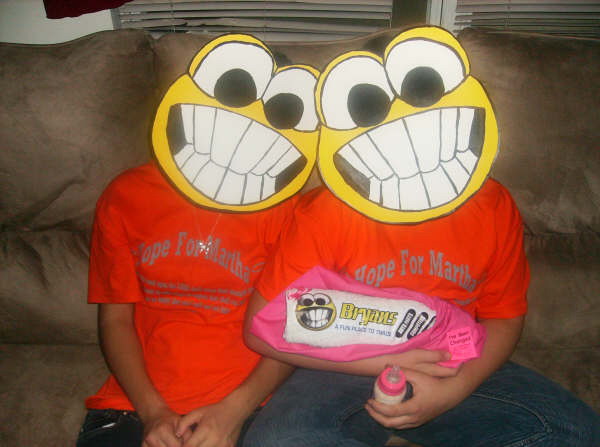 Week 6 Entries
We are looking for photographic proof of creative placement of our all new Bryans "FUN PLACE TO TRADE" stickers, so much so, we're putting up some SERIOUS LOOT for what we think is the BEST SHOOT. Its an easy game so drop by and be one of the first 500 people to pick up a FREE sticker sheet and start placing them on your car, in your house, on laptops, luggage, coffee pots, lanterns, cell phones, toilets, well, you get the idea. Then take a snap shot and email away to stickercrazy@txol.net Don't forget to submit your contact info because we'll be selecting a winning pic weekly and on Monday Dec 22, we'll choose a final winner for the Grand Prize of 5 crisp 100 dollar bills. Now how's that for a FUN PLACE TO TRADE? Anywhere that you think is creative will be acceptable in this contest, as long as its family friendly. And there is one catch, in that the large decal contained on each sticker sheet must be placed on the rear window of one of your vehicles, and your entry pics must be accompanied with a pic of this requirement too. Just a little secret to keep quiet – next contest will involve that sticker and yet more cash.
OK, don't have a digital camera? No excuses. Bryans Computers just happens to have them on sale through Christmas for 99 bucks. And that includes a FREE 15 minute tutorial with our senior technician, Cameron Buck.
Don't let this one sneak by folks. It's easy, and the odds are really good as 1 out of 500 will walk away with 500 bucks, and just in time for Christmas. With the economy the way it is, there aren't many giving away money, much less this much money. It is because of our great customers that even in the hardest of times, we can continue to show growth and provide a continued and trusted FUN PLACE TO TRADE. We look forward to your participation and hope you have a Happy Thanksgiving and Merry Christmas.
For contest rules, see Bryan. But generally, you must be alive in order to play. Must have a vehicle in order to play. Must have some free time in order to play and finally, No purchase necessary in order to play - but it might help.
Blessings,
Bryan Jackson
Bryans Auto Supply – Computers – Signs – Internet
925 E Main
Eastland TX 76448
254 629-2158
bryan@ebryans.com