MAIN MENU
ANNUAL EVENTS
BRYAN'S PLACE
CONTACT BRYAN
925 E Main / P O Box 854
Eastland TX 76448

PHONE: (254) 629-2158
EMAIL: bryan@ebryans.com
FACEBOOK: link
Bryans Show Vehicles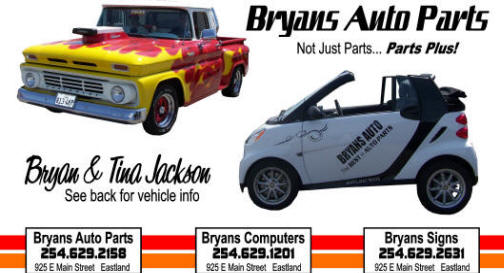 1962 Chevy C-10 Pickup

Built / painted by Bryan in the late 70's and transformed into a Street Rod. Sold new by his father, the year Bryan was born, at Kay Chevrolet in Cisco Texas. Originally equipped with a HOT WATER 6 235 with the column mounted 3 speed. But that's old news.

It now has a 400 small block engine that produces an estimated 375 hp and 315 pound-feet of torque. Not surprisingly, it drinks loads of fuel. The maximum speed is unknown, but will turn the 1/4 mile in 15 seconds. A 375b automatic transmission drives the overcoil suspended 4:11 posi-trac rear differential. It has been upgraded to p/s, p/b, a/t, and a/c. The fuel tank resides in its original location, being in the cab behind the seats. The truck gets 5 mpg city and 8 mpg highway.
2008 Smart Car Fourtwo

Purchased in Austin from Classic Smarts sight unseen with 1100 miles. Car mainly used as an in town daily driver and delivery car - with marketing & fun being the focus. This car has every available factory option, including a canvas roof convertible, power windows, a/c, p/s, heated seats & mirrors.

1.0-liter three-cylinder engine that produces 71 hp and 68 pound-feet of torque. Surprisingly, it requires premium fuel.
The maximum speed is 90 mph, with a 0-60-mph time of 14.1 seconds. A five-speed automanual transmission drives the Fortwo's rear wheels and is shifted without a clutch pedal via a simple console-mounted stick (and column-mounted paddles on Passion models), and there is a fully automatic mode as well. With its 8.7-gallon tank, the Fortwo will return 33 mpg city, 41 mpg highway.
2006 Hummer H3

Purchased in Ft Worth TX as a government seized vehicle at cents on the dollar - due the circumstances. This ride belongs to Bryans Signs' Daniel Jackson and is tricked to the max. The all terrain all purpose vehicle is mainly used as an in town daily driver and advertisement vehicle - with marketing & fun also being the focus. This ride has every available factory option, including a body and suspension lift kit.

The 3.5L double overhead cam will produce 220HP at 6,000 RPM. May be a small package but it packs a big punch for it's size. It has a electronically controlled automatic tranny along with auto hi-lo AWD. The 5cyl 225ft lbs of torque Hummer boasts 20mpg Hwy and 16 coty, but we can assure you these are not real world estimations, especially wiht the trick add ons like huge tires, FI plenum plate and K&N goodies. She rips and snorts, but that takes a big straw for a big drink.