MAIN MENU
ANNUAL EVENTS
BRYAN'S PLACE
CONTACT BRYAN
925 E Main / P O Box 854
Eastland TX 76448

PHONE: (254) 629-2158
EMAIL: bryan@ebryans.com
FACEBOOK: link
World MX Champion
Below is an exciting up close and personal video of Bryans 2007 World Championship run. Experience what it was like on a World Championship track as you ride along with Bryan during the practice session leading up to his Championship race. See below for the News Release on Bryans World Championship.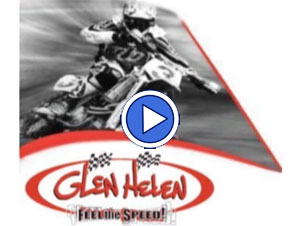 News Release
Bryan Jackson WINS World Championship Race
San Bernardino, CA - Bryan Jackson, Eastland Texas, captured his first World Title Saturday November 3rd, 2007 at the 23rd Annual White Bros World Vet Championship, held at the famous Glen Helen Raceway in San Bernardino California. It was not only Jackson's first Amateur World title in his respective class; it was also his first time to ever attend the event. Jackson is well known in the Texas motocross circuit due to his many years of participation and his family trackside ministry, known as Vertical Adrenaline Motocross Ministries.

"The Amateur World Vet Championship is the event every VET motocross racer in the world wants to compete in," says Bryan. "My win at this event is so prestigious. It's such Blessing to experience such a win."

Bryan is just one of hundreds of Vet motocross riders who decided to spend their 1st weekend of November racing at the Vet Nationals against competitors from all over the world. Racers were able to enter a wide variety of classes; all age based, ranging from 25 year olds to over 70 year olds. The track is a Pro National track, built at the Glen Helen Recreational Park area, which hosts numerous nationally recognized events. The course contains a variety of jumps, corners and other obstacles designed to test the skills and stamina of the racers. However, the real glory of Glen Helen Raceway is the mountains it's built on. Many large uphill and downhill sections are what make Glen Helen Raceway the attractive and challenging motocross facility it is.

Bryan and youngest son Tye have been racing for many years and train year round for this type of event. Combined they have accumulated many National Titles, an International Title, a USA Title, and now, a World Title.